Want your hair to look fuller and longer? Opr-in for sew-in wefts hair extensions! If your a stylist share this with your clients that are unsure of this methodf to help win them over ;)
Our blog will help you find out whether this extension method is good for you, how long you can wear this type of extensions, and where you can buy top-quality hair for this beauty procedure.
WHAT ARE SEW-IN HAIR EXTENSIONS?
Sew-in extensions are one of the most popular methods to change your hairstyle, which looks natural and is as comfortable as possible to wear. 
Speaking of sew-in extensions, one can often find such a term as wefts. These are hair strands sewn onto a super-thin cloth strip that is used in this extension technique.
Let's dwell in detail on what are wefts hair extensions and how they are applied:
At first, the hair tech creates a thin braid or row of silicone beads, the row must not be very loose (extended hair will be poorly fixed) or tight (there is a risk to provoke a weakening of the roots and hair fall-out).
Then a ready-made weft is sewn into the braid. In this technique, the hair is not divided into separate areas, it is applied as a whole "curtain" to the client's hair.
Extended strands should be placed under the natural hair to cover the place of weft fixation.
During the reapplication procedure, the stylist first takes off the wefts and unbraids the hair. Next, a new braid is made and the weft is re-sewn into it. In no case do not cut the hand-tied weft as it will damage it and the hair will start getting out of the weft!
One more thing about what are hair wefts: there are two kinds of them - Machine, Hand-tied, and Genuis wefts.
Machine wefts are made with special equipment: they have a thicker base, so they are more rough and heavy.
A hand-tied weft is the best solution for sew-in extensions. This is a thin hand-made weft that looks very neat and almost unnoticeable in wearing. 
As they are crafted by hand only, it takes a much longer time to make them. All these benefits contribute to the higher price of the hand-tied wefts.
Read more about these two types of wefts in our blog.
Let's consider the pros and cons of sew-in hair extensions to help you understand whether you should opt for this beauty procedure.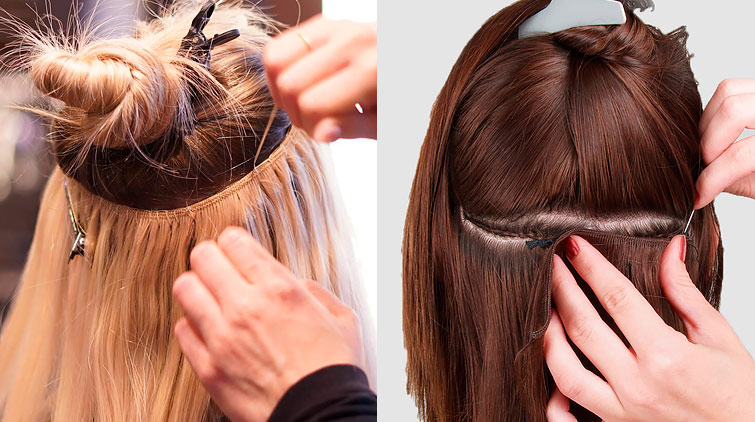 WHAT ARE THE BENEFITS OF SEW-IN HAIR EXTENSIONS?
Let's start with Pros…
Least damaging hair extensions
If the stylist masters this extension technique: does not make the braid too tight and correctly fixes the wefts, your natural locks will be safe and sound.
The extension procedure does not require heat treatment, which excludes the possibility of hair damage due to high temperatures.
This method is considered the

 

least damaging hair extensions

 

type.
Suitable for hair with a different structure
The main thing is to

 

choose high-quality hair with the right structure

 

for the weft manufacturing.
For fine hair, we recommend using

 

virgin Slavic hair. These are thin and soft undyed curls that do not create excessive tension in the root area and do not damage fine hair.
Russian hair

 

is suitable for slightly thicker hair. In this category, you can find the hair of any texture, color, and length.
For those with thick hair, it is better to opt for

 

European double-drawn hair.
Maximal comfort in wearing
You can use a hair dryer, a flat iron, or a curler, choosing sew-in hair extensions, you can not worry that the high temperature will damage the extensions fixation.
The same cannot be said about

 

keratin tip hair extensions, where the bonds can weaken from high temperatures, and the strands will slide off.
By choosing weft extensions, you can go to the sauna or swimming pool, lead a normal lifestyle and have a million-dollar look.
Forget about the length loss
Every reapplication procedure in the tape-in and fusion hair extensions technique means length loss. A part of hair near a bond or tape will be cut off during the

 

re-bonding procedure

 

or new tape application.
As to the hand-tied or machine wefts, you do not lose a single centimeter of length: the stylist removes the weft, unbraids the hair and makes a new braid, and then re-applies the weft in the hairstyle.
Natural look
This method of hair application is pretty discreet. Hand-tied wefts are usually custom-made according to your parameters. No one will be able to tell that you're wearing hair extensions because they blend perfectly with your natural hair!
Machine wefts can be cut into pieces of desired sizes according to your parameters.
Duration of the procedure
Another advantage of this beauty treatment is that it takes very little time to install. The stylist prepares your weft in advance, so you need to allocate only an hour and a half so that the hair tech can fix the extensions in the hairstyle.
WHAT ARE THE DISADVANTAGES OF SEW-IN HAIR EXTENSIONS?
And now about Cons…
If the hair extensions are sewn too tight, they might provoke pain and headaches, weaken the roots, and even lead to hair fall. 
The wrong weight (this is especially true for a more rough machine weft) can also greatly damage natural hair and lead to hair loss. If you have

 

thin hair, you should look into using hand-tied wefts. After all, you don't want your hair to get damaged and fall out, do you? 
It is not suitable for those with too

 

short curls, as extended strands are attached to braided hair. Your hair should be at least shoulder-length. If it is too short, then it is better to try other types of hair extensions.
Higher cost when compared to other

 

hair extension types. Hand-tied wefts are more expensive than fusion hair extensions, tape-ins, clip-ins, and machine wefts.
Although the application process doesn't take much time, the manufacture of hand-tied wefts is rather time-consuming. You will need to wait about 2-3 weeks before the hair tech makes a weft according to your parameters.
HOW LONG DO SEW-IN EXTENSIONS LAST?
On average, you can wear wefts for around 6-8 weeks, and then you need to get your hair extensions re-applied.
The time of wearing is affected by:
The growth rate of your hair.
How well you follow all the recommendations of the hair stylist: how you wash your head, how you comb, what comb you use, etc.
The professional skills of the hair stylist and the quality of hair used. Chinese and Indian hair is heavy and visually different from the hair of most North American people. In addition, they undergo aggressive treatment that destroys hair cuticles. As a result, such material becomes extremely uncomfortable to wear. 
The weft itself can last you for more than one year if made out of high-quality hair (of course), with the right treatment and on-time reapplications.
Choose the best quality products from I Love Slavic Hair - and enjoy your beautiful hairstyle!
HOW MUCH ARE SEW-IN EXTENSIONS?
Ready to try this type of hair extensions?
Then you will probably be interested to know how much do sew-in extensions cost.
The price is affected by:
Slavic hair is more expensive than other raw materials. Wefts out of such material are made upon individual request only. Accordingly, you will have to pay more. The price range for a 45 cm bundle is US$580-960 per 100 grams. This variation in prices is because Slavic hair bundles have different weights, colors, and structures that affect their prices.
However, most often clients order hand-tied wefts made of Russian dyed hair. The average cost of a 45 cm bundle is US$490 per 100.
Also, the answer to the question of how much are sew-in extensions depends on the weight of the bundle: the more it is, the more expensive it will cost.
Another important factor is length. 
The longer your hair is, the more they cost. For example, 50 cm long hair will cost about US$20 more than a 45 cm ($510) bundle. And the price of 55 centimeters is about US$520.
Cost of services of your hair tech.